Friends of Birch Hill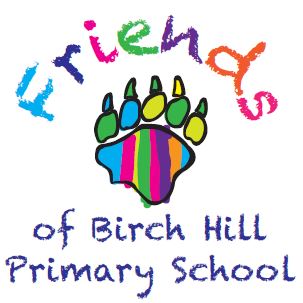 All parents and staff are automatically members of the Friends association and are warmly invited to attend the meetings, which are held every month in the staff room. Just turn up!
What do Friends do?
Our aim is to raise money for the school, mainly through organising fun events for the children, parents and wider community. Past events include a Fireworks display, Circus, Disco, Quiz night, Christmas Bazaar and a Summer Fete. We have also had a community dig to help clear the wild area of the playground to be used for outdoor classes.
Where does the money go
Previous fundraising projects have included raising £19k to replace the old climbing frame with a fabulous new one, £10k for new Interactive Screens for Reception and Year 1 classes, and £5k contribution to the Edible Playground project.
We are currently funding raising £15k to refurbish the Quiet Zone into a Sensory Garden.
How does it work?
There are a group of members elected at the AGM to run the association including chairing and documenting meetings, communicating with parents, organising events and managing the finances.
The current committee are:
Lucy Potter - Chair/Treasurer
Maria Lewis - Vice Chair
Lisa Silk-Hale - Secretary
Alex Perrett - Treasurer
Caroline Rashbrook - (Secretary)
Getting Involved
We are always looking for new ideas and help fundraising. Everyone is welcome to the meetings or get in touch if you are not able to make them but have some suggestions or feedback. Volunteers are very much needed to help at various events.
Contact
We have a Facebook group 'Friends of Birch Hill School' where everyone can share information, ideas and feedback on events. Alternatively you can e-mail friendsbirchhill@gmail.com
Friends Minutes
Please see below the minutes from recent meetings.